Frequently Asked Questions
What is the Action Series?
It's a four-month learning collaborative of three 90-minute learning sessions and three action periods with coaching, mentoring and peer-to-peer learning, plus a closing congress. The learning sessions are best described as workshops and idea exchange forums which help prepare teams to take action during the action periods. During action periods, participants work in their local areas (e.g., units/area of work) to apply what they learned during the learning sessions. We recognize the significant pressures currently faced by the health system. We, therefore, have designed this action series to require limited time commitment while still being high impact.  The program will include interactive and meaningful activities to support the learning and change necessary for safer care.
What is the aim of this Action Series?
The aim is to inspire and build capacity for people to expand their understanding of harm and safety and to implement a new approach to safer care into their life and practice thereby improving safety for all.
The new approach to safer care is based on the Measurement and Monitoring of Safety Framework developed by international patient safety experts, Drs. Charles Vincent, Susan Burnett and Jane Carthey.
What are the benefits of joining the Action Series?
Learn and apply a new approach to safety.
Support teams in their growth and understanding of how safety is defined and practiced.
Identify the many forms of harm, both physical and psychological, including those caused by culturally unsafe care.
Learn how to take a balanced approach to safety (e.g., the promotion of safety and the prevention of harm).
Participate in peer-to-peer learning, plus network with colleagues across Canada.
Work with faculty and coaches to successfully implement a new approach to safety in your work.
Access, share and adapt safety knowledge, tools and resources within a learning network.
Improve your team's approach to patient safety while taking action to deliver safer care.
The principles of the Action Series include:
Everyone teaches; everyone learns.
Accelerate movement between knowing and doing.
Learning sessions are a preparation for the action periods.
Active participation results in better outcomes.
Data and information collected are fundamental to evaluating improvement.
Is there a fee to participate in the Action Series?
There is no cost to participate however, we encourage all teams to recognize the contributions of patient/resident/client partners as part of their core teams, including compensation.      
During each action period, teams will receive a $100 gift card from Healthcare Excellence Canada to purchase refreshments in support of coming together to talk about safety.
Do I have to submit data and reports?
Yes, but these will be minimal. Measurement and evaluation are fundamental to understanding if your work and our work is making a difference. For this Action Series there will be some requests to complete evaluation surveys. During the final action period, teams will be asked to submit a brief report (three to four slides) highlighting actions taken and learnings gained.  You will be asked to share your report during the closing congress. 
Can I join once the Action Series has started?
No, the Action Series is a closed learning network because knowledge is cumulative across the learning sessions and action periods.   If there is interest and demand, Healthcare Excellence Canada will explore the opportunity to repeat the Action Series.
Do the same people need to attend all learning sessions?
Yes, it is highly recommended that the members of the core team attend all learning sessions and take responsibility to ensure the work continues during action periods. The coaches and faculty will work closely with the core team to advance the learnings from learning sessions during the action periods. 
What do I need to join the Action Series?
Senior leadership support
A team with a commitment to advancing safer care for all.
Computer and internet access.
Dedicated time and space to participate in the learning sessions, closing congress and coaching calls.
Commitment to explore, test and evaluate ideas for expanding and strengthening your understanding of harm and safety and to demonstrate this understanding by implementing at least one proactive approach to safer care.
What is the role of the supporting senior leader?
Support from a senior leader is key to a team's success and their role may include:
Helping to align the participation in the Action Series within the organization's strategic and operational objectives.
Connecting and communicating with appropriate stakeholders.
Allocating staff and resources to support participation in the Action Series activities.
Facilitating the work of the team within the larger organization and particularly seeking opportunities for spread and sustainability of the learnings from the Action Series.
Engaging with the team members and protecting their time required for successfully completing the Action Series.
Who should join this Action Series?
This Action Series is most applicable to teams seeking to expand their understanding and approach to safety improvement.  Recognizing that the traditional approach to patient safety is focused on past harm, this Action Series will introduce a holistic view of safety that we call a New Approach to Safety. It will be the initial steps for teams toward fostering a culture where safety is normalized, all forms of harm are recognized and staff, patients /residents/clients and their care partners are supported to contribute to safe care.  
Who guides the content of this initiative?
The design and implementation of the Action Series will be guided by experienced coaches from Healthcare Excellence Canada, expert faculty and patient partners. The content is developed based on evidence, best practices, expert opinion and learnings from past safety collaboratives. Although this is a structured process, we will remain flexible and responsive to our participants. Our primary goal is to work with you to create an initiative that helps you advance your understanding of safety and apply that understanding to your daily practice.  
Is enrolment limited?
All healthcare organizations across all sectors and settings in Canada are invited to apply. 
Teams will be selected to participate in the Action Series based on the strength of their application demonstrating their ability to meet the criteria outlined for the team composition and expectations. In selecting teams, Healthcare Excellence Canada will aim to include participants from a mix of geographies, and healthcare settings.  
Will the Action Series be offered in both French and English?
Yes, all printed materials, learning sessions and coaching calls will be offered in both French and English.
What is the Measurement and Monitoring of Safety Framework (MMSF)?
Participants in the Action Series will be introduced to the MMSF to help broaden and expand their understanding of safety.  The MMSF consists of five dimensions that prompt you with key questions to address any problem you have in safety.
PAST HARM: Has patient care been safe in the past?
RELIABILITY: Are our clinical systems and processes reliable?
SENSITIVITY TO OPERATIONS: Is care safe today?
ANTICIPATION AND PREPAREDNESS: Will care be safe in the future?
INTEGRATION AND LEARNING: Are we responding and improving?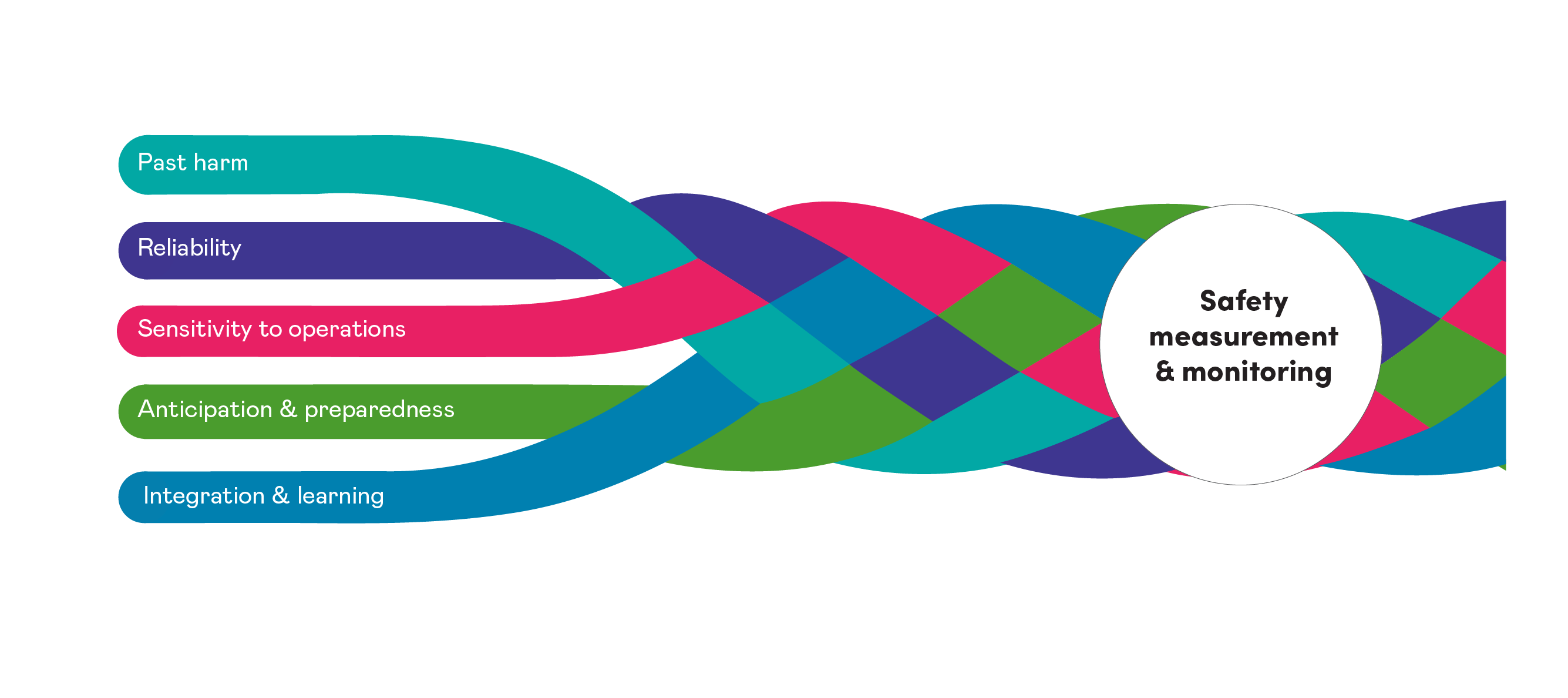 Watch a video where participants from past MMSF collaboratives share their views and experiences on applying the Framework to their work.