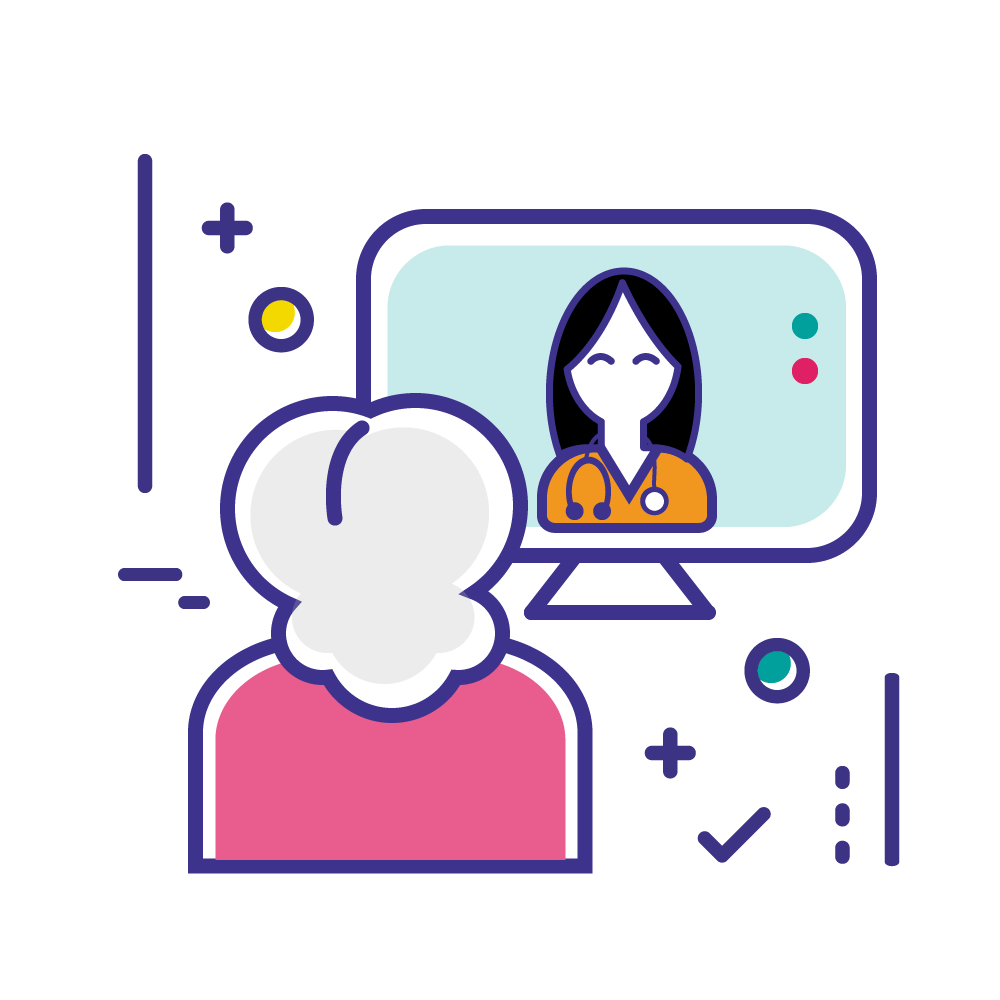 While use of virtual care has increased since the onset of COVID-19, certain challenges remain — this project supports providers and other health workers through sharing resources, best practices and toolkits.
Supporting clinicians with virtual care tools and training.
Virtual care can improve how we provide healthcare across Canada – often as a complement to in-person care. The pandemic has proven the value of this method of care delivery, and patients and providers want to continue using it after the pandemic ends. According to the 2021 National Survey of Canadian Physicians, most physicians believe virtual care improves patient access and enables quality, efficient care for their patients.
But to optimize their use of virtual care, clinicians need the right tools and training. Healthcare Excellence Canada (HEC) and Canada Health Infoway (Infoway) have partnered to advance virtual care change management – part of Infoway's initiatives to develop and expand virtual care solutions across Canada and HEC's efforts to shift care closer to home with safe transitions. The Change Management Program, which includes the Clinician Change Management Project and the Digital Health Learning Program, will help ensure that providers and other members of the care team, including patients and their essential care partners, are well-equipped to help transform care — so more people can benefit from equitable, safe and high-quality virtual care.
Clinician Change Management Project
HEC and Infoway have partnered to launch the Clinician Change Management project, which will initially focus on improving virtual primary care experiences and outcomes for patients in community settings, with the intention that this work will be scaled to other clinical areas and/or settings. Work for the Clinician Change Management project involves curating a toolkit of resources and testing and refining them through the Virtual Care Together design collaborative.
Virtual Care Together Design Collaborative
Virtual Care Together is a new design collaborative offered by HEC in partnership with Infoway. Through the collaborative, community-based primary care practices and organizations from across Canada are preparing, implementing and evaluating virtual care tools and practices.
Teams participating in the design collaborative are testing and refining supports needed for community-based primary care providers to implement safe and equitable virtual care services, as well as informing toolkit content and development. The toolkit will be adapted based on their feedback.
The design collaborative launched in October 2021 and will run to the end of March 2022. After the collaborative has completed its work, Infoway and HEC will determine the appropriate strategy for scaling use of the toolkit and longer-term rollout with Infoway.
Participating Teams
The Virtual Care Together design collaborative brings together 24 teams from eight provinces and one territory, representing urban, rural and remote settings. The teams serve diverse groups, including vulnerable populations, older adults, Indigenous communities and newcomers to Canada.
Care providers participating in the collaborative include physicians, nurses, social workers, psychologists, physiotherapists and other providers, with experience in various settings including primary care, chronic disease prevention/management and health promotion, mental health and addictions, rehabilitation care, cancer care, health equity (e.g., groups in vulnerable settings), specialty care and emergency care.
The following teams are participating in the collaborative:
Alberta:
Crowfoot Village Family Practice – Calgary
British Columbia:
Carrier Sekani Family Services – Prince George
Dr. Peter Centre Community-Based Integrated Health Care Facility – Vancouver
Richmond Primary Care Network – Richmond
Manitoba:
Office of Research and Quality Improvement, Department of Family Medicine, University of Manitoba – Winnipeg
New Brunswick:
Newfoundland and Labrador:
Eastern Health
Central Health
Labrador-Grenfell Health Authority
Mental Health and Addictions Division, Department of Health and Community Services, Government of Newfoundland and Labrador
Provincial Rehabilitation Centre, Eastern Health
Western Health
Northwest Territories:
Department of Health and Social Services, Government of Northwest Territories – Fort Good Hope
Nova Scotia:
IWK Health – Halifax 
Nova Scotia Health, Primary Health Care and Chronic Disease Management – Halifax
Ontario:
Access Alliance MidWest – Toronto 
NorWest Community Health Centres – Thunder Bay 
Alliance for Healthier Communities – Toronto 
Department of Family and Community Medicine, Mount Sinai Hospital – Toronto
North York Toronto Health Partners/VHA Home Healthcare – Toronto 
Petawawa Centennial Family Health Centre – Renfrew County 
South Georgian Bay Ontario Health Team – Georgian Bay 
Prince Edward Island:
Health Prince Edward Island, Cardiac Rehabilitation Program
National:
Team Testimonials
Learn more about why teams are participating in the collaborative and what they hope to achieve:
Participating in the design collaborative is a great way to learn from others and to capture ideas that may not been at the top of mind.  The Alliance for Healthier Communities represents over 100 community-based comprehensive primary care organizations, so being able to find the right resources to share improves the use of the technology, meaningful use of the services and ultimately improves health outcomes. 
Alliance for Healthier Communities
Learning collaboratives have had a compounding impact on the work that we do at the Dr. Peter Centre. They provide a think tank to the design of services, offering innovative solutions to present-day challenges. Our participation in the Virtual Care Collaborative will enhance the quality and availability of virtual care services at the Centre in the context of COVID-19.
Dr. Peter AIDS Foundation (Dr. Peter Centre)
Like most health care providers across Canada, staff in the Adult Rehabilitation, Geriatrics and Palliative Care Program at Eastern Health were required to quickly pivot to virtual care in March of 2020.   Participation in this collaborative will provide us with an opportunity to pause and reflect on our experience in virtual care over the last 20 months:  What has worked well?  What are the challenges? How can we optimize the delivery of virtual care going forward? Throughout the collaborative, our team is very much looking forward to connecting with experts in the field of virtual care and learning from the successes and challenges faced by other teams across Canada.
Eastern Health: Adult Rehabilitation, Geriatrics and Palliative Care Program
Clinician Change Toolkit
Validated through interviews, focus groups, social media scans and a survey of more than 200 clinicians and support staff, Infoway and HEC have identified three areas of focus for the Clinician Change Toolkit:
Appropriate Use of Virtual Care
Clinician and support staff need methods to determine when to use virtual care based on their capabilities as well as patients' needs/capabilities and their care requirements.
Quality and Safe Virtual Care Interactions
Clinicians and support staff need support to enhance the quality and safety of virtual care delivery, including communication skills (e.g., web-side manner, virtual relationship building) and virtual assessment skills (e.g., virtual diagnostic cues).
Use and Optimization of Virtual Care Services
Clinicians and support staff need ongoing support to address issues and challenges associated with enabling and delivering virtual care services, especially as they adapt their workflows (e.g., incorporating privacy, security and informed consent).
The final version of the Toolkit will be available after March 2022 once feedback from the collaborative teams has been incorporated.
Digital Health Learning Program
Complementing the Clinician Change Management Project, the Digital Health Learning Program aims to improve the digital health literacy of patients, families and caregivers by providing resources and education to improve their awareness, understanding and ability to access virtual care. These resources can also be leveraged by care providers to help their patients understand and use virtual care.
You can learn more by visiting Canada Health Infoway's website.