The Canadian Institute for Health Information (CIHI) and Healthcare Excellence Canada (HEC) have collaborated on a body of work to address gaps in measuring harm and to support patient safety improvement efforts in Canadian hospitals. 
 The Hospital Harm Improvement Resource (improvement resource) was developed by HEC to complement the Hospital Harm measure developed by CIHI. It links measurement and improvement by providing evidence-informed practices that will support patient safety improvement efforts. 
The purpose of measuring quality and safety is to improve patient care and optimize patient outcomes. The Hospital Harm measure should be used in conjunction with other sources of information about patient safety, including patient safety reporting and learning systems, chart reviews or audits, Accreditation Canada survey results, patient concerns and clinical quality improvement process measures. Together, this information can inform and optimize improvement initiatives. 
The improvement resource is a compilation of guidance linked to each of the clinical groups within the Hospital Harm measure to help drive changes that will make care safer. Through research and consultation with clinicians, experts, and leaders in quality improvement (QI) and patient safety, the improvement resource is intended to make information on improving patient safety easily available, so teams spend less time researching and more time optimizing patient care. 
Using the improvement resource
The layout of the improvement resource reflects the framework of the Hospital Harm measure (Figure 1) and focuses on actions that can be taken to decrease the likelihood of harm. The measure includes four major categories of harm; within each category is a series of individual clinical groups, or types of harm, each of which connects to evidence-informed practices for improvement. 
For each clinical group, the improvement resource provides the following: 
an overview of the clinical group and goal for improvement

 

implications for patients experiencing the type of harm and their importance to patients and family

 

guidance for clinical and system reviews and incident analyses, including a list of resources specific to the clinical group

 
guidance on measuring improvement

 

success stories from organizations

 

references.

 
Figure 1: Hospital Harm Measure Framework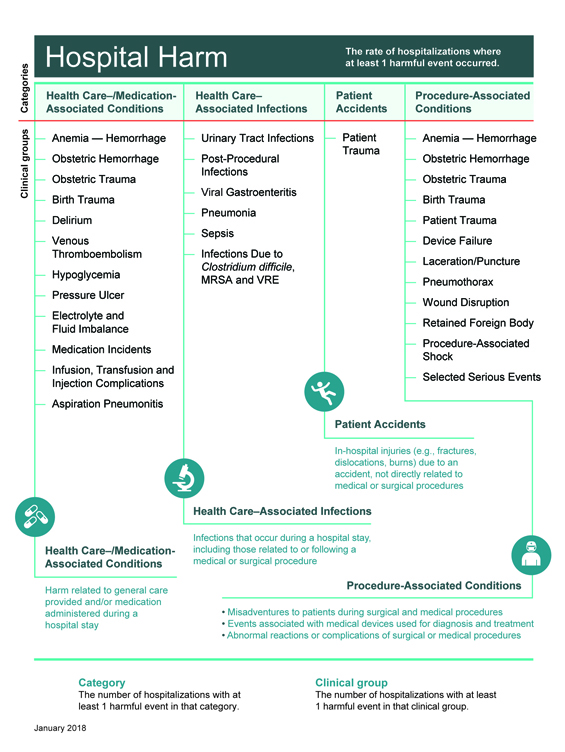 Definitions
As patient safety evolves it is important to be clear on the meaning and differences of specific words. For the purposes of the Hospital Harm measure, the following definitions apply: 
Harm:

An unintended outcome of care that may be prevented with evidence-informed practices and is identified and treated in the same hospital stay.

 

Occurrence of harm:

Harmful event is synonymous with occurrence of harm.

 

Hospital Harm Measure:

Acute care hospitalizations with at least one unintended occurrence of harm that could be potentially prevented by implementing known evidence-informed practices.

 
For harm to be included in the measure, it must meet the following three criteria. 
It is identified as having occurred after admission and within the same hospital stay.

 

It requires treatment or prolongs the patient's hospital stay.

 

It is one of the conditions from the 31 clinical groups in the Hospital Harm Framework.

 
If you have any feedback or suggestions for the Improvement Resource, please send your ideas to info@hec-esc.ca 
Table of Contents
Resources
{{((sortOptions.length > 0 && currentSortOption > -1) ? sortOptions[currentSortOption] : param_sortText)}}
{{param_topicFilterText}}
{{param_resourceTypeFilterText}}
{{param_noEntriesMessage}}
{{currentEntry.friendlyTitle.length > 0 ? currentEntry.friendlyTitle : currentEntry.title}}
{{param_topicText}} {{decodeURI(currentEntry.displayTopic).replaceAll('+', ' ').replaceAll('%26', '&').replaceAll('%3A', ':')}}
{{param_publicationDateText}} {{formatPublicationDate(currentEntry.publicationDate)}}
{{param_allText}}
{{decodeURI(filterType.title).replaceAll('+', ' ').replaceAll('%26', '&').replaceAll('%3A', ':')}}
{{param_allText}}
{{decodeURI(filterType.title).replaceAll('+', ' ').replaceAll('%26', '&').replaceAll('%3A', ':')}}
{{param_allText}}
{{decodeURI(filterType.title).replaceAll('+', ' ').replaceAll('%26', '&')}}
{{param_noEntriesMessage}}
{{currentEntry.friendlyTitle.length > 0 ? currentEntry.friendlyTitle : currentEntry.title}}
{{param_topicText}} {{decodeURI(currentEntry.displayTopic).replaceAll('+', ' ').replaceAll('%26', '&').replaceAll('%3A', ':')}}
{{param_publicationDateText}} {{formatPublicationDate(currentEntry.publicationDate)}}