The Advancing Frailty Care in the Community collaborative (AFCC) was led by HEC, in partnership with the Canadian Frailty Network from November 2019 to March 2022.
Its aim was to advance frailty care in primary care and community settings to improve care and quality of life for older adults living with frailty, and support their essential care partners.
How AFCC contributed to better healthcare in Canada   
AFCC supported 17 healthcare teams across Canada to adapt and implement evidence-informed innovations to improve the identification, assessment and management of frailty in primary care and home care.
The collaborative began just as the COVID-19 pandemic was taking hold, however, all teams successfully implemented frailty interventions that resulted in nearly 5,000 older adults, including people living with HIV and First Nations, Inuit and Métis older adults, being screened for frailty.
AFCC contributed to improved patient experiences, including:  
improved quality of life (reported by 56 percent of frail older adults) 

 

maintained or reduced level of frailty (reported by 73 percent of frail older adults)

 

appropriate involvement in care planning

 

referrals to programs and services that meet their needs

 
Healthcare providers reported: 
increased capacity to identify, assess and manage frailty

 

increased capacity to undertake quality improvement or evaluation activities

 

improved coordination of care

 

changes to policies, processes, guidelines and practices to continue to implement frailty interventions

 
In many primary care locations involved in this program, frailty interventions are now part of standard care provided for older adults.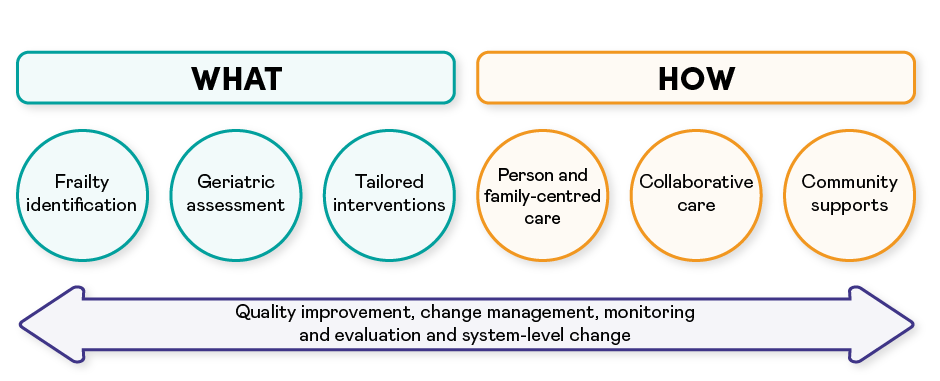 The approach of AFCC 
Expert faculty and coaches supported teams to systematically identify and assess frailty in populations 75 years of age and over, and conduct opportunistic screening for those 65 years of age and over. 
For those identified as vulnerable, mildly or moderately frail, geriatric assessments were followed up with customized care plans (developed in partnership with patients and essential care partners) to slow the progression of frailty, and maintain or enhance their quality of life. 
Teams adapted one of four of the top frailty innovations identified in the 2018 CFN Frailty Matters Innovation Showcase, as listed below, and designed their own frailty initiatives.  
Meet the teams and learn more about their projects 
1 We refer to frailty as an individual's state of increased vulnerability resulting from reduced reserve and loss of function across multiple systems, reducing their ability to cope with normal or minor stressors.
2 Research on Aging, Policies, and Practices. (June 2018). A profile of caregivers of older adults (65+). Retrieved February 27, 2020 from: https://rapp.ualberta.ca/wp-content/uploads/sites/49/2018/09/Profile-of-Carers-of-Older-Adults-65-Infographic_2018-06-20.pdf